Powered By:
Today's Summary
Monday, September 25, 2023
Indices: Nasdaq 100 +0.46% | Russell 2000 +0.44% | S&P 500 +0.40% | Dow +0.13%

Sectors: 8 of the 11 sectors closed higher. Energy led, rising +1.25%. Consumer Staples lagged, falling -0.36%.
Commodities: Crude Oil futures fell -0.39% to $89.68 per barrel. Gold futures fell -0.46% to $1,937 per oz.
Currencies: The US Dollar Index rose +0.35% to its highest level since November at $105.95.
Crypto: Bitcoin inched higehr by +0.19% to $26,297. Ethereum rose +0.45% to $1,588.
Interest Rates: The US 10-year Treasury yield rose to a new multi-year high of 4.537%.
Here are the best charts, articles, and ideas shared on the web today!
---
Chart of the Day
$SPX – SPX "Looks" terrible (H&S….), but then again it did on 9/30 – 10/1 2021 ….. pic.twitter.com/Eer9klABqR

— Nautilus Research (@NautilusCap) September 25, 2023
Today's Chart of the Day was shared by Nautilus Research (@NautilusCap). Over the past three months, the S&P 500 has formed a potential Head & Shoulders top. The neckline of this bearish pattern coincides with the August 2022 highs, around 4,300. We could argue about the nuances and validity of this pattern, but most would agree this pattern should be bearish. The thing is, we're all watching the same movie here. The S&P 500 is the most over-analyzed chart in the world, and many are seeing this bearish pattern. When patterns become too obvious, they tend to fail. And when patterns fail, you often get a sharp reaction in the opposite direction. In this case, that would mean a sharp reaction higher. Failed patterns can be more powerful than successful patterns. As Nautilus points out, it wouldn't be the first time in recent history that we had a well-broadcast Head & Shoulders top resolve sharply higher.
---
Quote of the Day
"If it's obvious, it's obviously wrong."
– Joe Granville
---
Trendlines > Headlines
This week, we sat down with one of the most respected sell-side technicians, John Kolovos, of Macro Risk Advisors. We discuss the outlook for Stocks, Bonds, Commodities, and more!
US Dollar Index Closed Higher Ten Weeks in a Row. What's Next? – East Coast Charts
Louis Spector examines the outlook for the US Dollar Index after an impressive 10-week winning streak.
Seasonal Weakness Continues But… – All Star Charts
JC Parets shares some key charts to watch in the weeks ahead.
S&P 500 Head and Shoulders Top Confirmed – StockCharts.com
David Keller looks at the Head & Shoulders pattern in the S&P 500.
Amplify – The Weekly Trend
In this podcast, David Zarling and Ian McMillan discuss some of the key trends and themes across the markets.
Buy Yom Kippur? – Bespoke
Bespoke highlights at a lesser-known seasonal pattern; Sell Rosh Hashanah, and Buy Yom Kippur.
---
Chart Summit is back and better than ever…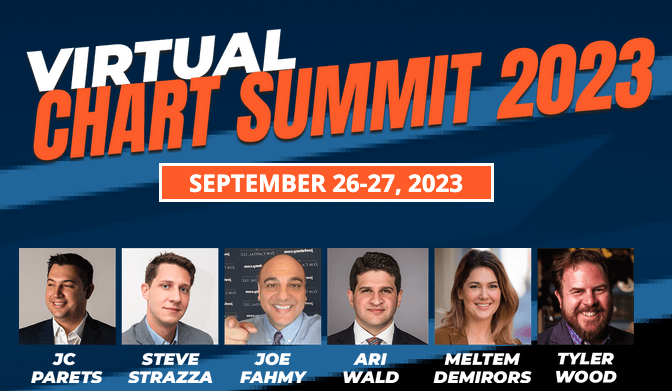 We have an amazing lineup planned for you this year, with some of the best technicians sharing their ideas and market insight.
Plus, I'll be presenting on Wednesday afternoon — and I'd love for you to check it out.
---
Top Tweets
Dumb, but true:

The S&P 500 has now closed up for the last 12 Mondays, the longest streak in $SPX history 🙃

— Callie Cox (@callieabost) September 25, 2023
$SPY HoD, ends 4-day losing streak.

Happy Yom Kippur! pic.twitter.com/lcPiOLYkrA

— Mike Zaccardi, CFA, CMT 🍖 (@MikeZaccardi) September 25, 2023
When stocks are down more than 1% in Aug and Sept it hasn't always a bad thing. In fact, Q4 has been higher 12 of the past 13 times, with some huge gains in October. pic.twitter.com/bsUkARSvQU

— Ryan Detrick, CMT (@RyanDetrick) September 25, 2023
427-426 level of interest below for $SPY
Measured move target 427.24
⚓️VWAP March low 42615 pic.twitter.com/0Ry2PgiMrB

— Brian Shannon, CMT (@alphatrends) September 25, 2023
Is that a… daily TD Combo 13 on $IWM !???

Yup.. pic.twitter.com/bp1i3ndfdd

— PetrTrades (@PetrTrades) September 25, 2023
SPDR banking indexes $KBE & $KRE have violated their AVWAPs from the bank panic lows earlier this year

This means that the average buyer since the May low is now in a loss position… sellers are in control pic.twitter.com/HNkFWHq6w5

— Steven Strazza (@sstrazza) September 25, 2023
We're now at two and a half years of no gains for the S&P 500 equalweight index $RSP. pic.twitter.com/Vafumwhs21

— Bespoke (@bespokeinvest) September 25, 2023
Is this really a bull market? If indeed a new bull market started on October 13, 2022, it is certainly testing our patience. The 23% rally remains well below average in terms of the typical recovery slope from a bear-market low. pic.twitter.com/VL2Ba1VJi2

— Jurrien Timmer (@TimmerFidelity) September 25, 2023
rates and oil pic.twitter.com/Roa0t3Mc5a

— J.C. Parets (@allstarcharts) September 25, 2023
#Bitcoin has held remarkably well considering the selloff in stocks over the last week.

The breakeven supply zone ranging from $27,000-$28,250 from continues to be the main resistance zone to close above.$BTCUSD pic.twitter.com/EgaeqGlLUX

— Jake Wujastyk (@Jake__Wujastyk) September 25, 2023
morning pic.twitter.com/cO22en5WOL

— Arun S. Chopra CFA CMT🧐 (@FusionptCapital) September 25, 2023
---
You're all caught up now. Thanks for reading!